The wild beauty of the scenery on Maré, the profound and almost mystical link binding Maré Islanders to their natural world and seen in their living traditions, and the island's exceptionally rich history, all give this secret island a very specific identity that will leave a lasting impression on those who take the time to plumb its essence. Discovering Maré is above all an inner experience, made up of meeting its people and the emotions experienced...
On Maré, enter the mystery of an unknown world
Maré — Nengone in the local language – is the southernmost and highest of the Loyalty Islands. It is half the size of Lifou with an area of 650 km2. This limestone stronghold, which has five levels of superimposed coral growth rising to almost 130 metres, has a wild beauty, with its deeply carved cliffs, dark forests, wonderful little sandy creeks nestled between rocky promontories, long undisturbed beaches fringed with coconut palms or New Caledonian pines, natural swimming pools and breathtaking abysses.
First christened Britannia, from the name of the yacht captained by William Raven who explored the area in 1803, Maré was long subject to the influence of British sailors, merchants, and missionaries. This influence can still be found today in the Nengone language, which is strongly marked by English words and pronunciations. The first European to set foot on the island was Captain Butler of the Walpole in 1800. But it was not until four decades later that the first real contacts with the whites were established. From 1841 onwards the Reverend Murray spread Protestant values. His Catholic counterpart, the Reverend Beaulieu, did likewise for his creed: unrest continued until 1883. Today, Catholics make up less than 20 per cent of the island's population.
Maré is divided into eight districts covering 29 tribal villages: Guahma, Tadine, Wabao, Eni, Médu, La Roche, Tawaïnedr and Pénélo. The main activity of the 5,800 Maré Islanders is market gardening and fishing. Avocadoes from Maré have acquired such a reputation that they are snapped up in Noumea, and a great festival is devoted to them every year, as also happens for the wajuyu, the snapper caught in deep water around the island. The profound and almost mystical link that binds Maré Islanders to their natural environment and their deep attachment to custom gives this hidden island a very special identity. Discovering Maré is above all an inner experience, made up of meeting its people and the emotions experienced...
Let your senses speak to you... listen to Maré,
the island that speaks to your heart.
A SHORT NENGONE DICTIONARY
Nengone is the common language of Maré and Tiga. All the languages of the Loyalty Islands (except Ouvéa) are typically Melanesian. Except for a few "elders" and very young children, all the inhabitants of the island speak French. Here are some common words and expressions in Nengone, for pronunciation, ask your host for advice: Some good laughs are assured!
| | | |
| --- | --- | --- |
| Good morning | > | BOZU |
| Goodbye | > | HAEKED |
| See you tomorrow | > | ORORÉ LU |
| Yes | > | É |
| No | > | DÉKO |
| Thank you | > | CI OREONE |
| Very well/good | > | NIDI ROI |
| Not good | > | DÉKO MA ROI |
| Not well | > | THO |
| To sleep | > | THAETE |
| | | |
| --- | --- | --- |
| A meal | > | KODRARU |
| Lobster | > | AMAINI |
| Coconut palm crab | > | YENEWANU |
| Fish | > | WAI |
| Coconut | > | WANU |
| The reef | > | PEDA |
| The sea | > | CÉLÉ |
| A walk | > | ÉTANO |
| How are you? | > | HA ILO ? |
| Very well, thanks | > | ENGETACE CI ORÉONE |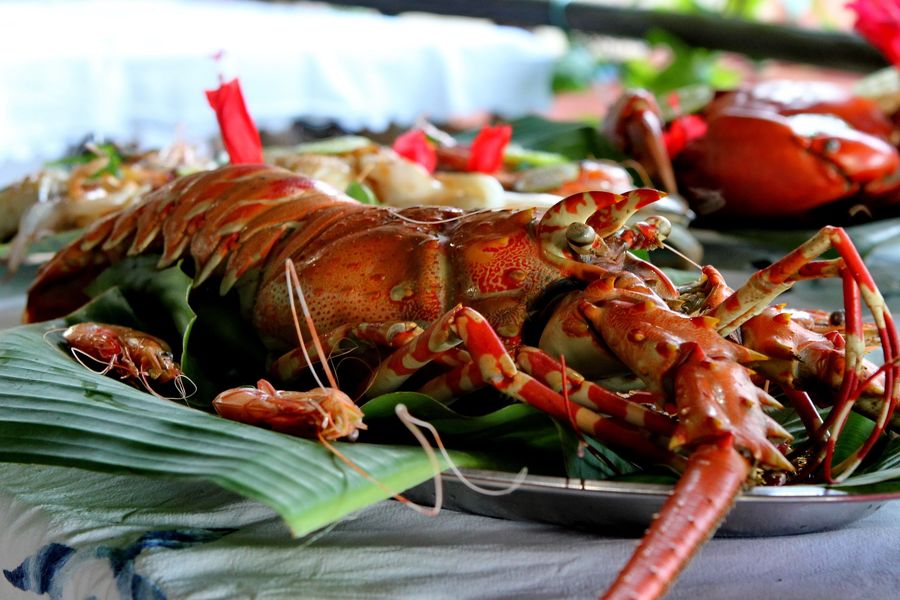 1er au 3 décembre 2023
Début décembre, la langouste de Maré est mise à l'honneur à la tribu de Penelo. 3 jours de fête autour du crustacé et des produits de la mer au moment où les fêtes de fin d'année s'annoncent.